Question: Where can I find discussion on the Visium FRP probe gDNA background signal?
Answer: In the CytAssist Spatial Gene Expression using fixed-RNA-profiling (FRP) probes, due to a change in the decrosslinking temperature in the workflow, accessibility to both RNA and genomic DNA (gDNA) is increased. Some of the sequenced ligation events reflect contribution from open gDNA. The metrics in the web-summary HTML file have been updated to reflect this change.
This article provides a more detailed description of the web summary report probe background section metrics and plot.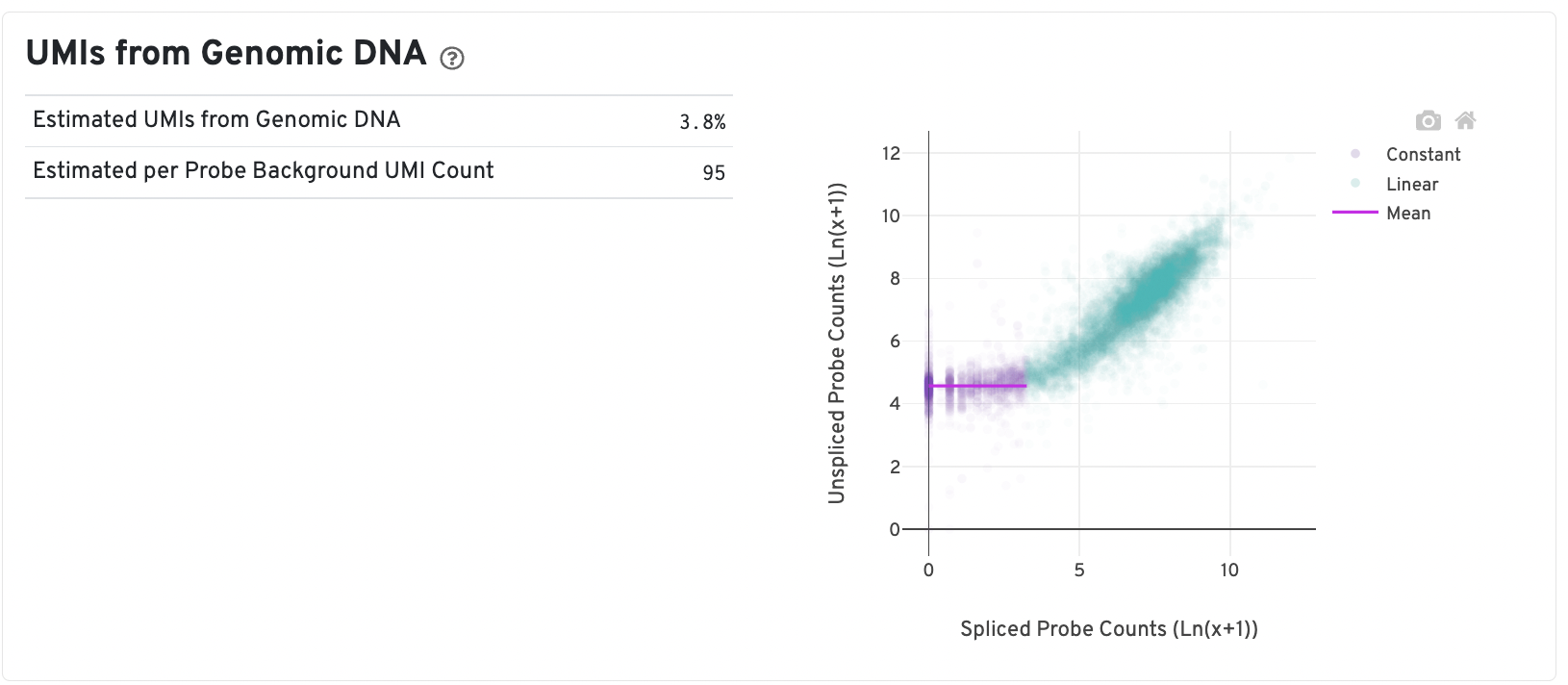 The background signal estimate applies only to probe sets with multiple probes per transcript, e.g. the Visium human v2 probes. The estimate uses a subset of transcript probes that have a mix of exon-exon-junction-spanning and non-exon-exon-junction spanning probes for the transcript.
Each point in the plot reflects the relationship between two pseudo-bulk counts for a transcript. The x-axis represents the sum of the junction-spanning probe counts across barcodes per transcript, while the y-axis represents the sum of the non-junction-spanning probe counts across barcodes for the same transcript.
The hypothesis is that non-junction-spanning probe counts include background signal, as these probes can bind to for example genomic DNA, whereas junction-spanning probes will specifically detect spliced transcript with no or minimal signal due to background. This allows estimating the percentage of UMIs that stem from background ligation events.
The difference in the counts due to background becomes apparent at low probe counts, where the relationship between the sums switches from being linearly correlated (turquoise) to non-correlated (purple). The mean of the discordant, non-linear counts (purple line) gives the estimated UMI background level cutoff below which non-junction-spanning probe counts have a high probability of stemming from a background probe ligation event.
Related Resources
Products: Visium CytAssist for FFPE, Visium CytAssist for fresh-frozen