Question: Why is my Visium CytAssist Readiness Test failing?
Answer: The Readiness Test assesses instrument hardware functionality and calibrates the imaging system. It should be run during First Time Use (FTU) set-up, after moving the instrument or installing a Firmware update.
In the event of a failed Readiness Test, check the following:
Confirm that the Shipping Bolt has been removed from the instrument. The Shipping Bolt holds the cameras in position during transportation and if left installed during a run, it may impact optical system calibration.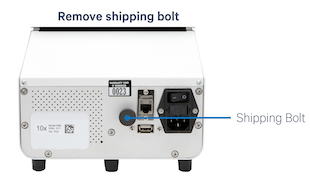 If the Shipping Bolt has not yet been removed, unscrew from the back of the instrument. Retain the Shipping Bolt in a marked bag or container in a convenient location in case the instrument requires future transportation.

Power cycle the instrument.

Ensure that the instrument, blank slides, and Visium CytAssist Calibration Slide are clean. Dirty alignment windows or slides can negatively impact the Readiness Test. We recommend performing the following steps:

Wipe the Tissue Slide Stage and the Visium Slide Stage ​​with 5-10% bleach solution followed by 70% ethanol or 70% isopropanol using laboratory wipes. Followed by compressed air to dry and remove debris as needed.

Clean glass windows with lens paper or laboratory wipes. Use dry polyester swabs (such as Texwipe TX714A Cleanroom Swab, 0.5"L - EW-33677-62 from Cole-Parmer or equivalent) for cleaning window corners. After cleaning, use compressed air to remove fibers and debris.

Clean the blank slides and the Calibration Slide with lens paper or laboratory wipes followed by compressed air.

Use a bright light (e.g. flashlight) to inspect the glass windows for any smudges and remove them as described above.
Refer to the Visium CytAssist with Readiness Test User Guide for more information. If the problem persists after completing the above mentioned items, contact support@10xgenomics.com.
Products: Visium CytAssist