Question: Does Cell Ranger ATAC filter out mitochondrial reads?
Answer: Yes, Cell Ranger ATAC filters out reads from mitochondria. More details can be found on the algorithms page.
While creating the reference, chrM is specified as non-nuclear contigs, so reads mapped to chrM are filtered out. More details are found on the reference build step page.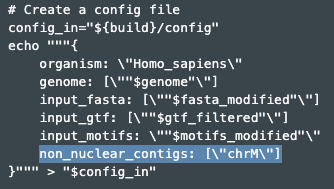 In the summary.json file, there is a metric called frac_waste_mitochondrial that refers to the MT filter.
We recommend using our optimized Demonstrated Protocols for Single Cell ATAC. These protocols have been designed in such a way that <5% of the reads should be of mitochondrial origin.
Products: Single Cell ATAC