Question: How does over-fixation impact Visium for FFPE v1 assay performance?
Answer: This article provides an overview of Web Summary File metrics for Visium Spatial Gene Expression for FFPE v1 libraries from different tissue blocks across various fixation times. While DV200% may not accurately predict assay sensitivity with over-fixed samples, over-fixed samples generated similar spatial gene expression data as optimally-fixed samples. Individual results may vary depending on the particular sample type and quality.
In this experiment, mouse placentas were dissected and cut into pieces. A single piece from each organ was fixed for one day, ten days, fifteen days, or one month. When fixation was complete, tissues were processed and embedded to generate FFPE blocks. Several sections were taken from each block for RNA quality assessment and library preparation.

Table showing that extended fixation impacts assay performance. Lower DV200% values did not always correlate with longer fixation times but consistently lead to lower sensitivity as assayed by Genes and UMI Counts per Spot.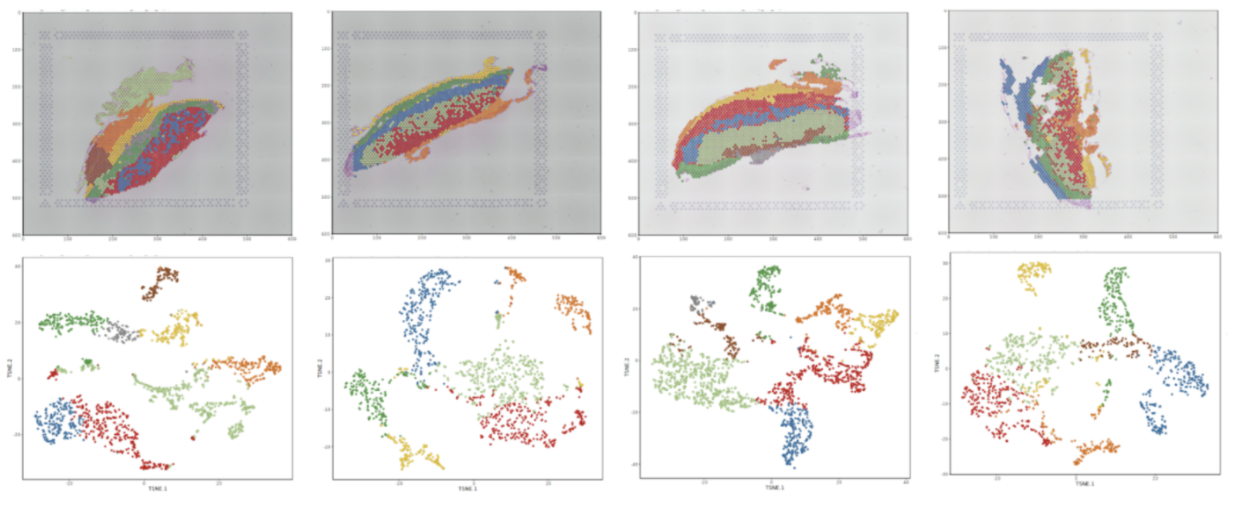 Spatial clustering (top) and t-SNE projections (bottom) of mouse placenta at one day, ten days, fifteen days, and one month (displayed from left to right) showing that longer fixation times and assay performance are negatively correlated.
The above data suggest that despite the decrease in complexity of over-fixed samples, spatial resolution and clustering is still maintained. Over-fixed tissues have similar clustering compared to properly fixed samples. Thus, based on limited testing, this points toward over-fixed samples being compatible with our Visium Spatial Gene Expression for FFPE v1 Solution.
Products: Visium for FFPE