Question: What are the best practices for HT Dynabead cleanups?
Answer: Due to the increased number of tubes needed for high-throughput sample processing and enhanced cell recovery, additional considerations are necessary for bead cleanups. These recommendations have been tested in-house for Dynabead cleanups. It may be possible to extend the recommendations to other bead cleanups (such as SPRIselect steps during library prep). This is low-risk, but untested.
In general, over-drying both Dynabeads and SPRIselect beads will negatively impact sample yield and may reduce library complexity and UMI counts. This should be avoided. As such, we have implemented additional modifications as outlined in the 3' HT and 5' HT User Guides to avoid over-drying. We outline these best practices here.
Updated HT Dynabead cleanup best practices:
After dynabeads have incubated for 10 minutes and the tubes are placed on the magnet, wait the designated clearing time. Before removing supernatant, visually inspect all strip tubes to make sure supernatant is clear of beads.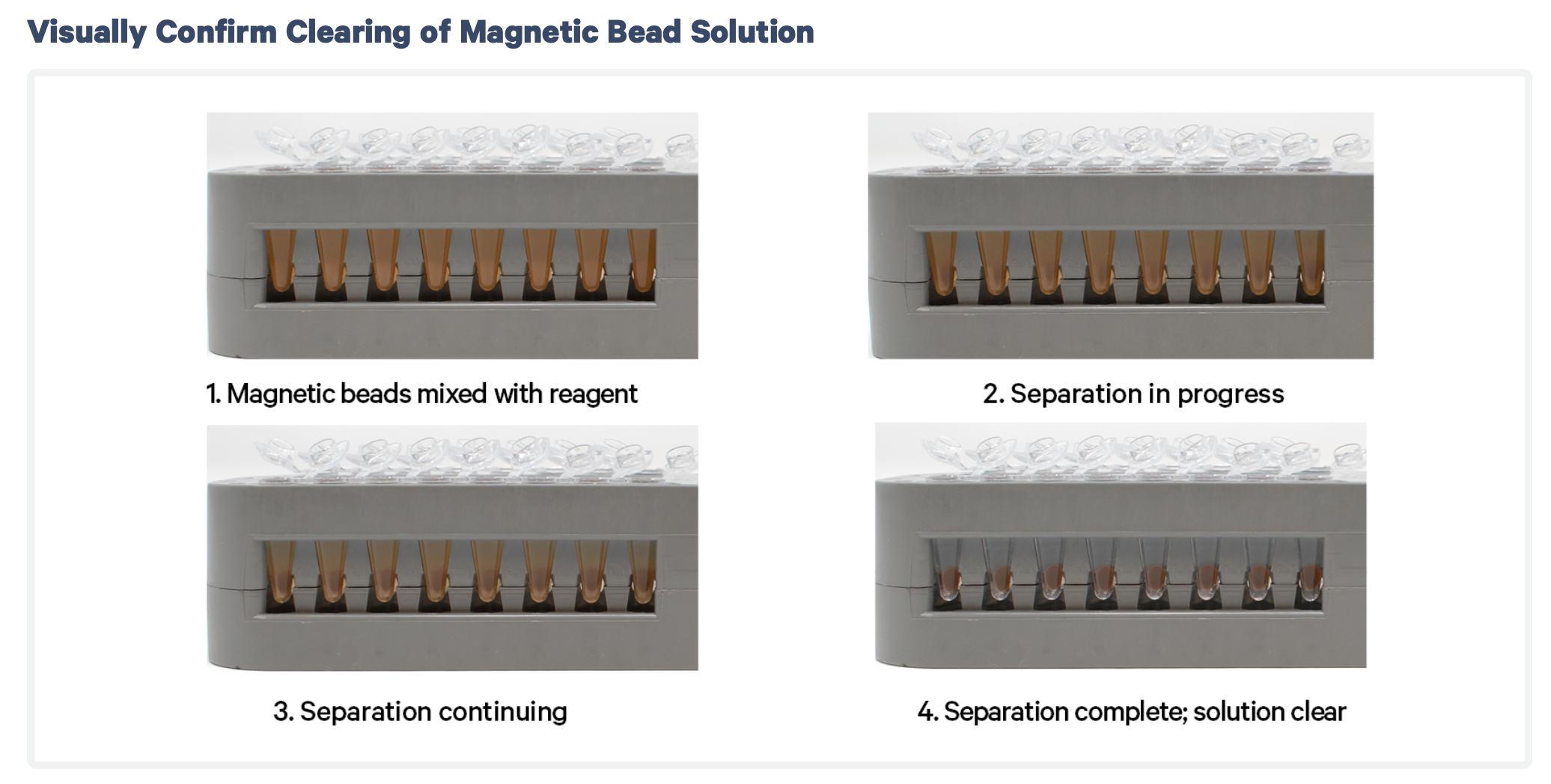 To prevent bead over-drying after ethanol washes and ethanol is removal, dry beads only for the specified time. Check beads frequently during this time as drying times may vary depending on humidity and lab temperature. Cracking indicates over-drying.
With the tube strips on the magnet, immediately add indicated buffer (ES1) to all tube strips. Wash the ES1 down the side of the tube where the pellet is to wet it. Discard tips in between tube strips to avoid contamination.
After ES1 is added, cap all strip tubes prior to removing them from the magnet to avoid contamination. Spin down all strips and proceed with ES1 pipette mixing and elution.
Considerations for preparing Dynabead cleanup mix:
Unlike the standard assay, the Dynabead cleanup buffer (PN-2000438) for the 48 reaction kit come in an ~8 mL bottle. The ~8 mL bottle is thawed for 10 minutes at 65C in either a bead bath (recommended Thermo Fisher Scientific Isotemp Drybath Incubator 11-718-22Q) or water bath. When thawing in a water bath, ensure the cap is firmly sealed. To make sure the buffer is fully thawed and there is no precipitate, vortex intermittently. The Dynabead cleanup buffer found in the 8 reaction kit (PN-2000088) can be thawed in a thermomixer, bead bath, or water bath.
General bead cleanup best practices:
Please refer to: What are the best practices for using SPRIselect beads in 10x assays?
Products: Single Cell Gene Expression, Single Cell Immune Profiling