Question: What is the suggested minimum sequencing depth for Visium for FFPE v1 libraries?
Answer: We recommend a minimum of 25k read pairs per spot covered with tissue. To calculate this, first estimate the % of capture area covered by the tissue section based upon the tissue image. Then use the following formula to calculate the recommended sequencing depth:
Total sequencing depth = (Coverage Area x total spots on the Capture Area) x 25,000 read pairs/spot

Example calculation for 60% tissue coverage: (0.60 x 5,000 total spots) x 25,000 read pairs/spot = 75 million total read pairs for that sample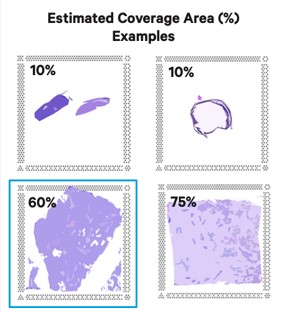 Additional guidelines for estimating the number of spots covered: Determining the number of spots covered with tissue may be performed visually or using the Visium Manual Alignment Wizard in Loupe Browser for a more accurate measurement.
Products: Visium for FFPE