Question: How can I transfer pathologist annotations to Loupe Browser?
Answer: It is currently not possible to directly import pathologist annotated images into Loupe Browser. However, it is possible to transfer the annotations into the BF image as shown in the example below.
This Visium dataset from the 10x Support site, is from an AJCC/UICC Stage Group IIA, ER positive, PR negative, Her2 positive breast cancer sample. The H&E image was annotated by a pathologist for the following:
Invasive carcinoma
Fibrous tissue
Ductal Cancer In Situ (DCIS)
To transfer these annotations to Loupe we will use custom categories and clusters. We will add a new category and populate it with custom clusters of spots based on the pathologist annotations.
1. Load the cloupe file in Loupe Browser
2. Create a new category in Categories by clicking on the 3 dots on the right hand side and name it "Pathologist Annotations"
3. Using the draw selection brush tool
or lasso tool

, assign the spots to the relevant annotation type according to the pathologist annotated image.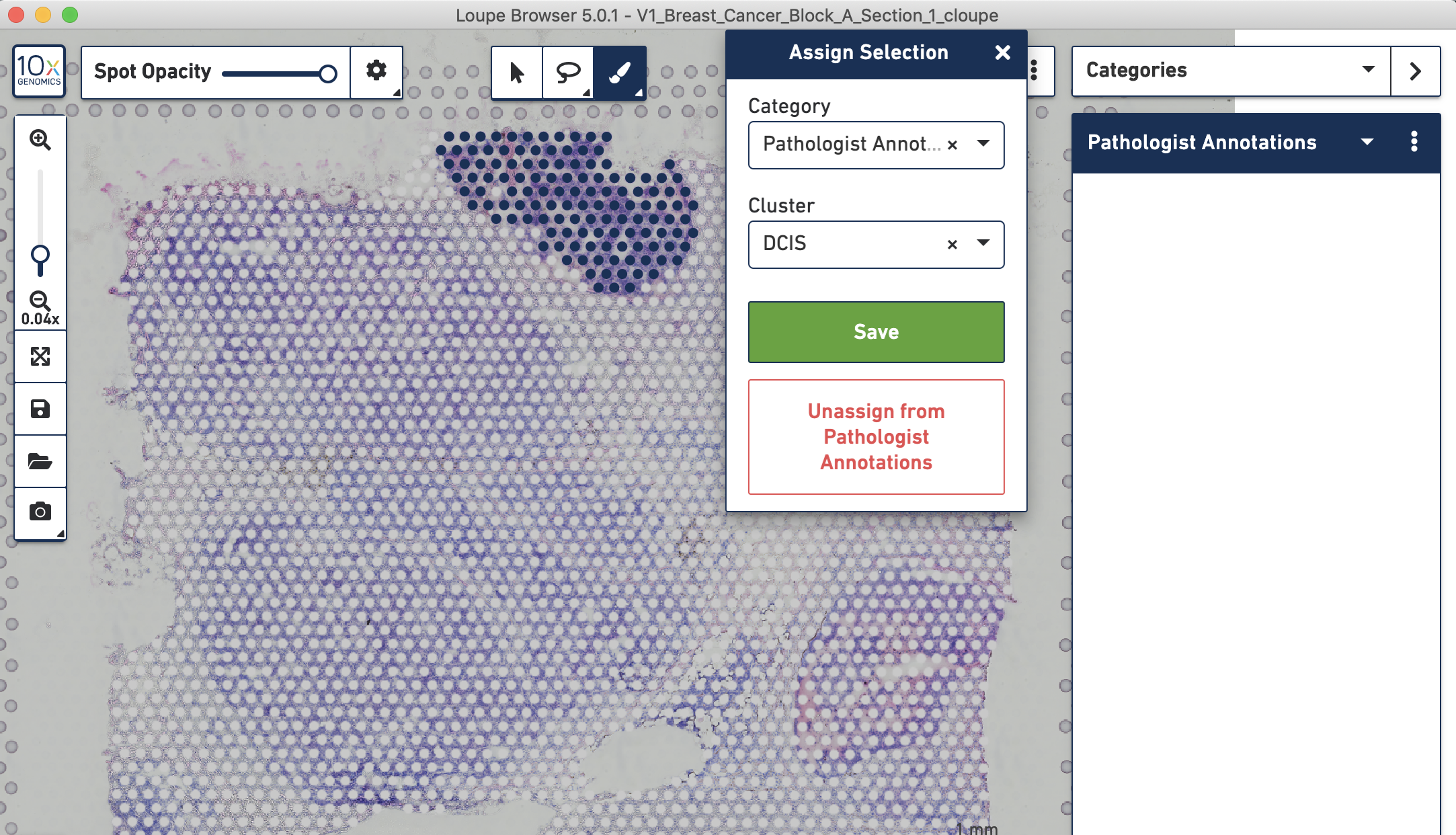 4. Create one cluster per annotation to arrive at the following.
5. Use the eraser tool

to clear selections or clean up edges if needed.
In this way, pathologist annotations can be transferred to Loupe Browser.
See tutorial on Loupe Browser Navigation for more details on specific navigation actions.
Next Steps:
It is possible to export the clusters from the newly created category (Pathologist Annotations) in CSV format.
You can choose to include only annotated spots and exclude unlabeled spots in the CSV file or export the entire dataset containing all spots (labeled and unlabeled).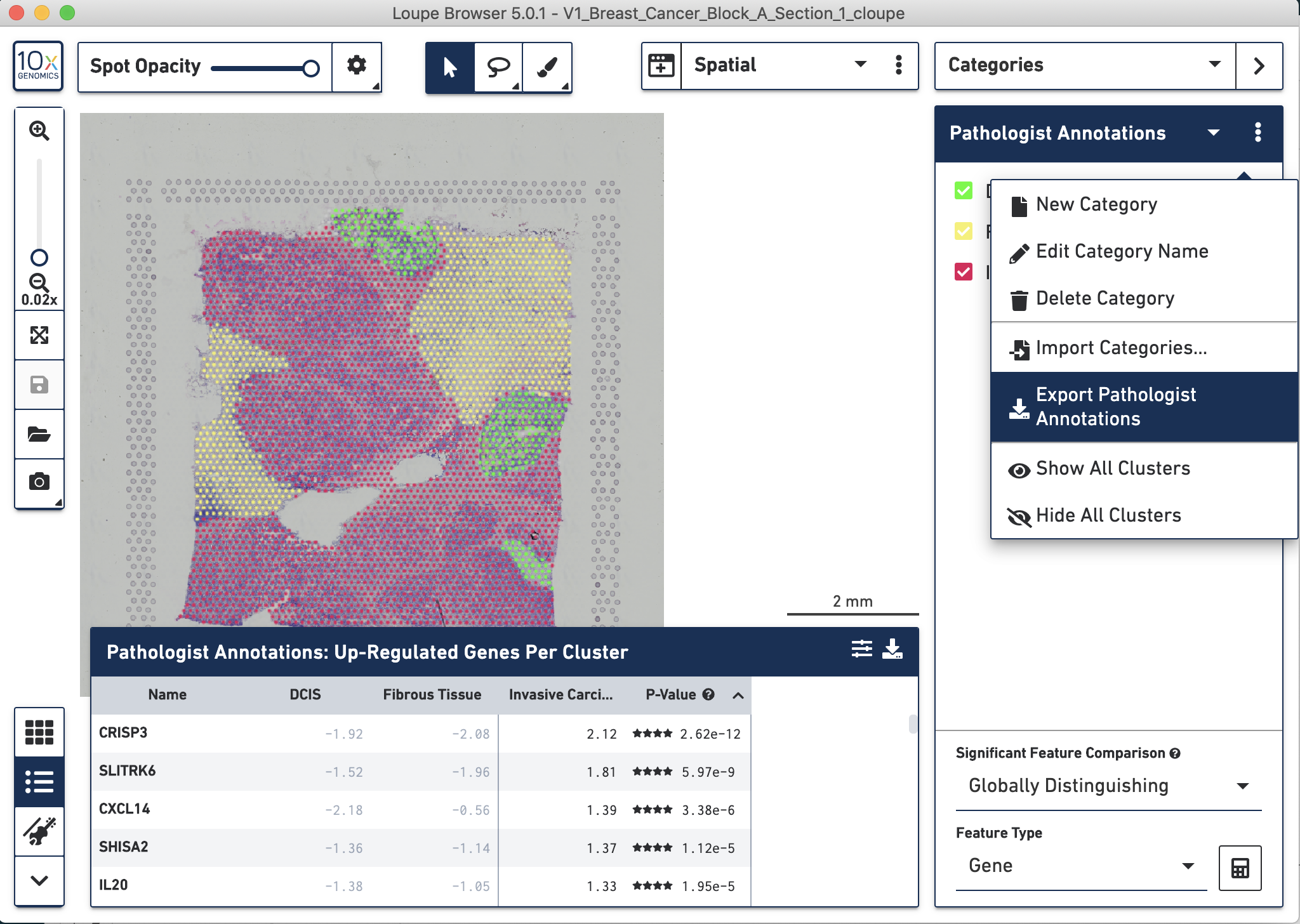 The resulting two column CSV file contains a list of spot barcodes in Col1 and the corresponding cluster to which it belongs in Col2. In our example, each spot is assigned as either DCIS, Invasive Carcinoma or Fibrous Tissue since we created a cluster for each annotation type.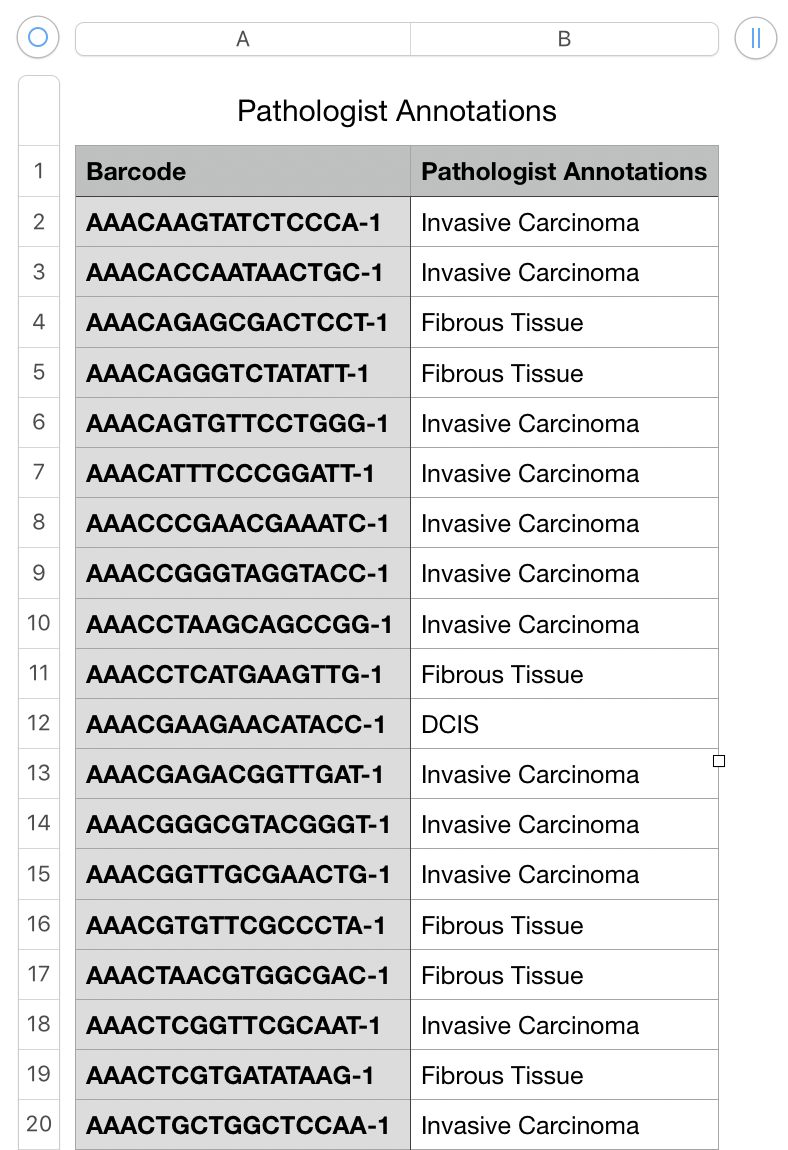 This file can later be used in downstream analysis to carry over the same annotations made in Loupe Browser into community developed tools.
Effectively, we have transferred the annotations by the pathologist to the expression data by assigning each spot/barcode to an annotation category based on the pathologist annotated image.