Question: Can Multiome Single Cell libraries be pooled with other 10x libraries?
Answer: Multiome Gene Expression libraries can be pooled with other dual-indexed gene expression libraries. Multiome ATAC libraries can be pooled with standalone ATAC libraries only on certain Illumina sequencers like MiSeq, HiSeq 2000/2500, NovaSeq 6000 (v1 reagents) sequencers and using 16bp for the i5 read. Although typically, Multiome ATAC libraries are sequenced at i5=24 bp, but when pooled with standalone ATAC libraries (V1, V1.1) on certain Illumina sequencers listed above, they have to be sequenced at i5=16 bp to be compatible with both library structures. Reading past 16 bp on i5 on standalone ATAC libraries could create issues with Cell Ranger ATAC.

Read more on : Why can I not pool Multiome ATAC and Standalone ATAC libraries on certain sequencers?
There are no disadvantages of sequencing Multiome ATAC libraries with i5=16 bp when sequenced on the sequencers listed above.
Note: We do not recommend pooling Multiome Gene Expression libraries with Multiome ATAC libraries on the same flow cell as they have differing sequencing specifications. Additional information can be found at: Can Multiome ATAC and Multiome GEX libraries be sequenced together?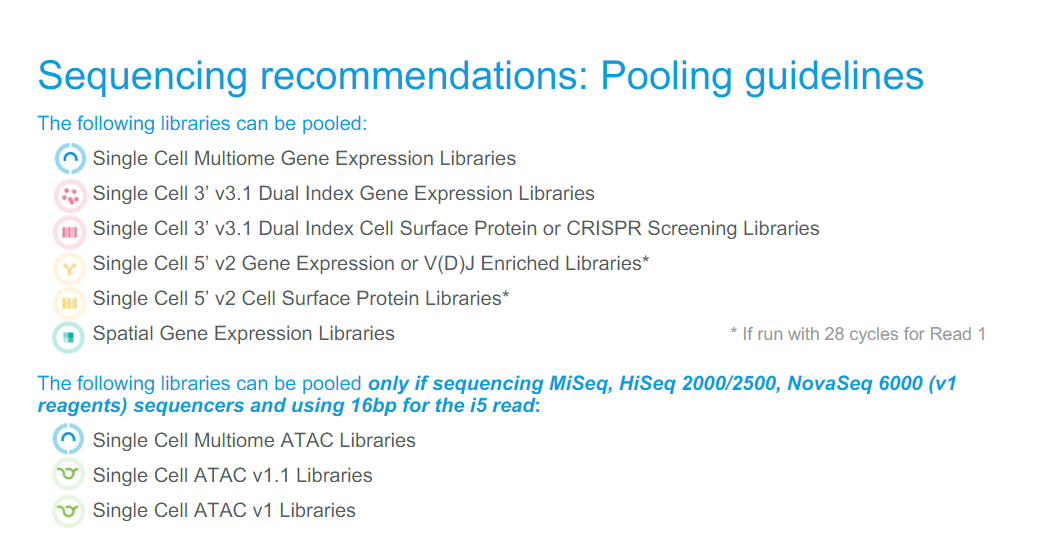 Products: Single Cell Multiome ATAC + GEX