Question: My data contains lots of cells that are enriched for mitochondrial (MT) genes. How can I exclude these cells from further analysis?
Answer: In some samples, you might see a fraction of cells that may be exhibiting signs of stress or higher expression of MT genes. This could be an indicator of:
Poor sample quality, leading to a high fraction of apoptotic or lysed cells.

The overall biology of the sample, for example tumor biopsies, which may have increased mitochondrial gene expression due to metabolic activity and/or necrosis.
This phenotype is discussed in more detail here.
You may choose to exclude these cells from downstream analysis. There is no direct way to exclude mitochondria-rich cells in cellranger count pipeline. However, you can accomplish this indirectly using either of the 2 methods below.
1) Using Cell Ranger and Loupe Browser
Step 1. Identify the barcodes for the MT enriched cell from cellranger count output files or using the Loupe Browser.
The poor quality cells often have low overall UMI counts, very few up-regulated genes (indicating low overall gene expression) other than MT genes, over expression of MT genes. For example, in the image below you can see the gene table for cluster 1 (the blue colored cluster at the top) of the Graph-Based clustering t-SNE plot. In line with the criteria for identifying dead cells above, there are only mitochondrial genes that are up-regulated in this cluster. A similar observation is also made for cells in cluster 9 (lime green cluster).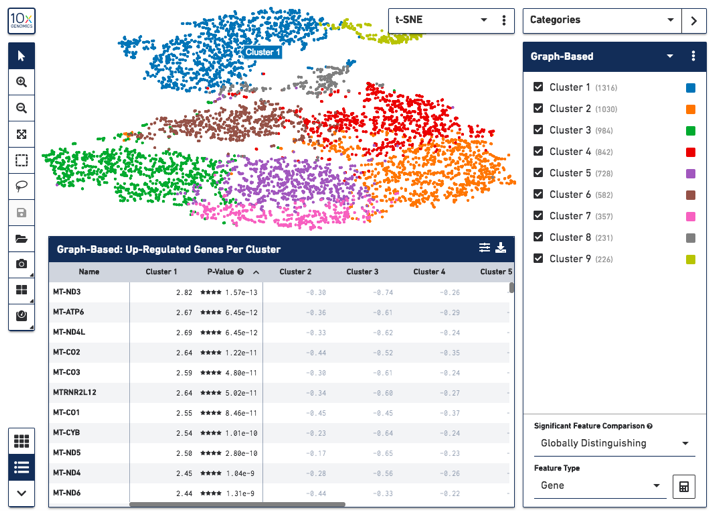 The figure below shows that cells in clusters 1 and 9 also have lower total UMI counts (light peach color) compared to other cells.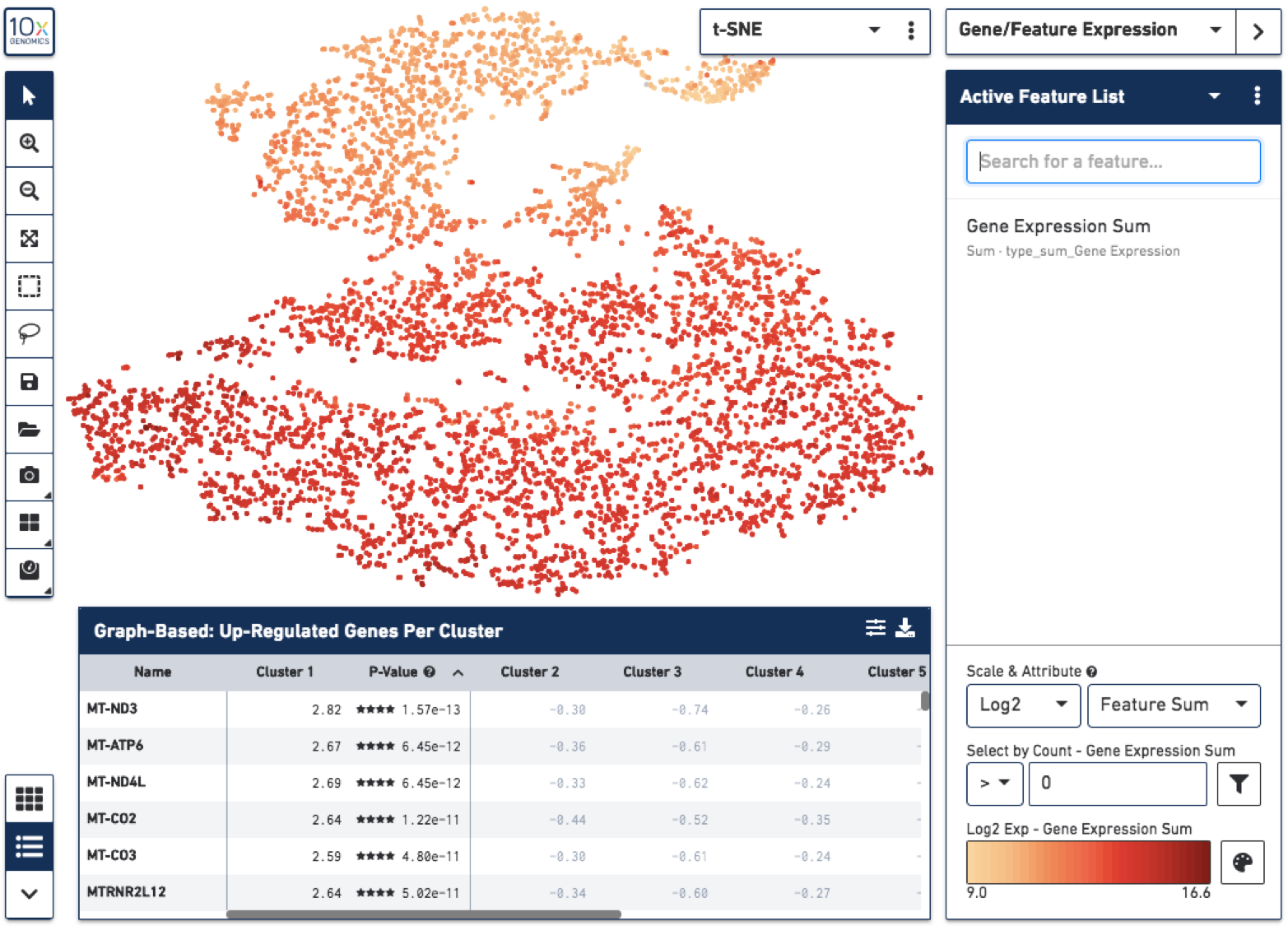 You can get the barcodes for the cells in clusters 1 and 9 from one of the cellranger count output files. The default clustering results (Graph-based) are in the "Analysis" tab of Cell Ranger's web summary output. For example, in the figure below, cells in clusters 1 and 9 are MT-enriched. The barcodes for these clusters can be found in this output file: outs/analysis/clustering/graphclust/cluster.csv.
You can also download the list of non-MT enriched cells using Loupe Browser. For this, first de-select clusters 1 and 9, that are MT-enriched. Then use "Export" function in Loupe Browser as below.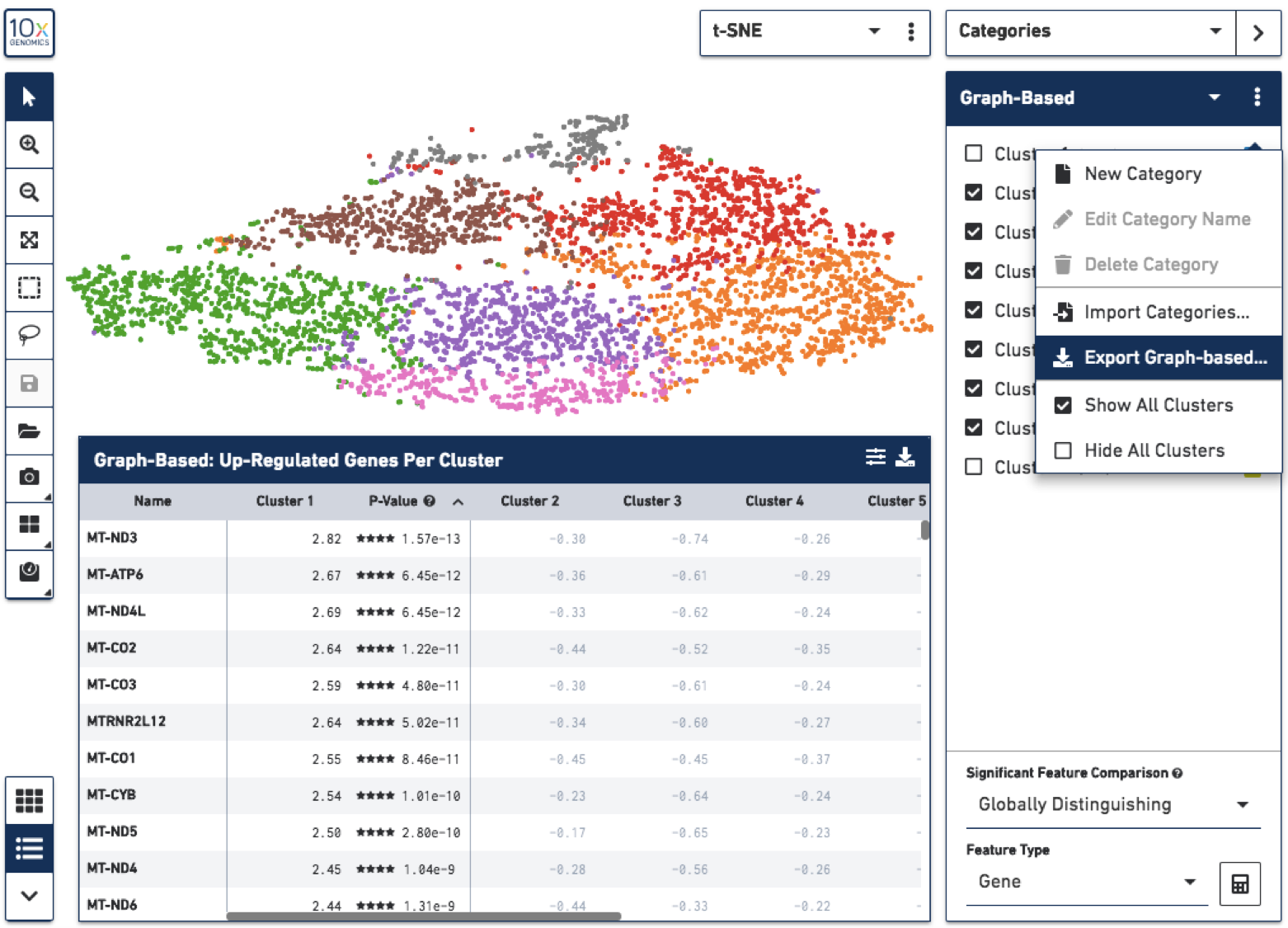 Step 2. Re-run secondary analysis and generate a new .cloupe file without the MT-enriched clusters using cellranger reanalyze. To specify barcodes, you will need to use --barcodes option.

2) Using Seurat
The third-party tool such as Seurat could be used to filter cells with a high percentage of mitochondrial gene expression. Please find more information in the vignette here (section "QC and selecting cells for further analysis").
Note: Seurat is a third-party software product. We are not staffed to answer questions about it or provide support for modifications.