Question: I have run my data with Cell Ranger 2 and Cell Ranger 3. Why do I see more cells that are MT (mitochondrial gene) enriched from Cell Ranger 3 results? Which result should I trust?
Answer: Cell Ranger 3.0 has a new cell calling algorithm that is more sensitive. It is expected to detect more cells such as low RNA content cells in heterogeneous samples that were missed by the earlier algorithm. See here for more details on the new cell calling algorithm.
On the other hand, Cell Ranger 3.0 also picks up stressed or dying that are enriched for mitochondrial gene expression and have low total UMI counts. These were missed by earlier cell calling algorithm. The figure below shows an example dataset run with Cell Ranger 2.2 and 3.0. The data shows additional lower UMI count barcodes called as cells in Cell Ranger 3.0. These barcodes with low UMIs cluster together (dark blue in UMI plot on lower left, blue and lime green in lower right t-SNE plot). The two clusters with the extra cells identified by Cell Ranger 3.0 are enriched for mitochondrial genes, which could be indicative of dying or stressed cells.
Cell Ranger 2.2: 4770 cells

Cell Ranger 3.0: 6586 cells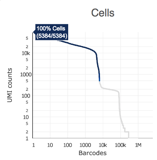 In summary, a potential side effect of the new cell calling algorithm is that we might end up including more of the poor quality cells that are MT enriched in Cell Ranger 3.0 due to the higher sensitivity of the algorithm. You may choose to exclude these from your further analysis.
Products: Single Cell Gene Expression