Question: How can I assess the quality of my nuclei for Single Cell ATAC Sequencing?
Answer: A high-quality nuclei suspension is critical for Single Cell ATAC sequencing. There are a couple of ways to asses the quality of a nuclei preparation:
Cell Viability Measurements: Trypan blue along with an automated counter or a hemocytometer can be used to measure the sample's viability. Unlysed cells will stain as live while nuclei will stain as dead. Measurements of <5% live input cells indicate proper cell lysis. Example cell viability measurements and images are available in the Demonstrated Protocols 'Nuclei Isolation for Single Cell ATAC Sequencing' and 'Nuclei Isolation from Mouse Brain Tissue for Single Cell ATAC Sequencing' Note: For samples with debris, ethidium homodimer-1 or other fluorescent dyes may help distinguish nuclei from debris for accurate quantitation.
Visualization with Microscopy: The nuclei may also be assessed by visualization under a microscope. A good nuclei suspension will show clump-free, debris-free nuclei. Using a high-powered microscope (at least 40x), it may be possible to visualize individual nuclei to assess the membrane quality. A nucleus with an intact membrane should appear round and smooth (Panel A). A nucleus with a compromised membrane will appear "ruffled" and show evidence of blebbing (Panels B-D). Blebbing is the loss of coherence of the nuclear membrane with the nucleoplasm and is normally caused by overlysis. In general, users need to optimize the lysis protocol.
To learn how to optimize nuclear isolation for Single Cell ATAC, refer to the article "How can I optimize my nuclei prep for Single Cell ATAC sequencing?"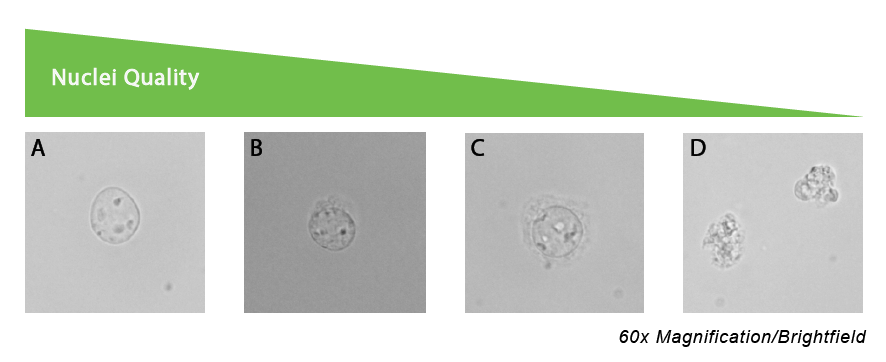 A: High-quality nuclei have well-resolved edges. Optimal quality for single cell ATAC libraries.
B: Mostly intact nuclei with minor evidence of blebbing. Quality single cell ATAC libraries can still be produced.
C: Nuclei with strong evidence of blebbing. Proceed at your own risk.
D: Nuclei are no longer intact. Do not proceed!
Product: Single Cell ATAC