Question: Can I detect delta/gamma chain TCRs in my V(D)J data?
Answer: Although delta/gamma chain detection is currently unsupported, below we provide some information that may be helpful.
Biological relevance:
T cells can have two distinct kinds of T-cell receptors (TCRs) expressed at the cell membrane as a complex: alpha/beta or delta/gamma. Alpha/beta TCRs are made up of variable alpha and beta TCR chains. Most T cells bear this type of receptor. Delta/gamma TCRs are composed of variable delta gamma chains, and expressed on a smaller subset of T cells that recognize different types of antigens. Delta/gamma T cells make up only about 0.5-5% of the total T cells1.
Assay perspective:
Single-cell human TCR Amplification kits (1000252/1000005) or mouse TCR Amplification kits (1000254/1000071) target T cell alpha/beta chains in the constant regions and do not enrich for delta/gamma chains. While 10x Genomics does not officially support TCR delta/gamma, our customers have successfully used single cell 5' assay to amplify delta/gamma chains and publish. The following publications have successfully used our Single Cell 5' assay to detect delta/gamma chains:
Lee, M., Lee, E., Han, S.K.

et al.

Single-cell RNA sequencing identifies shared differentiation paths of mouse thymic innate T cells.

Nat Commun

11, 4367 (2020). https://doi.org/10.1038/s41467-020-18155-8

Mimitou, E.P., Cheng, A., Montalbano, A.

et al.

Multiplexed detection of proteins, transcriptomes, clonotypes and CRISPR perturbations in single cells.

Nat Methods

16, 409–412 (2019). https://doi.org/10.1038/s41592-019-0392-0
The table below is a summary of the PCR conditions used in the publications to amplify TCR delta/gamma from the cDNA generated using the Chromium instrument. For more information regarding the primers or the protocol, please contact the corresponding author of the respective publication.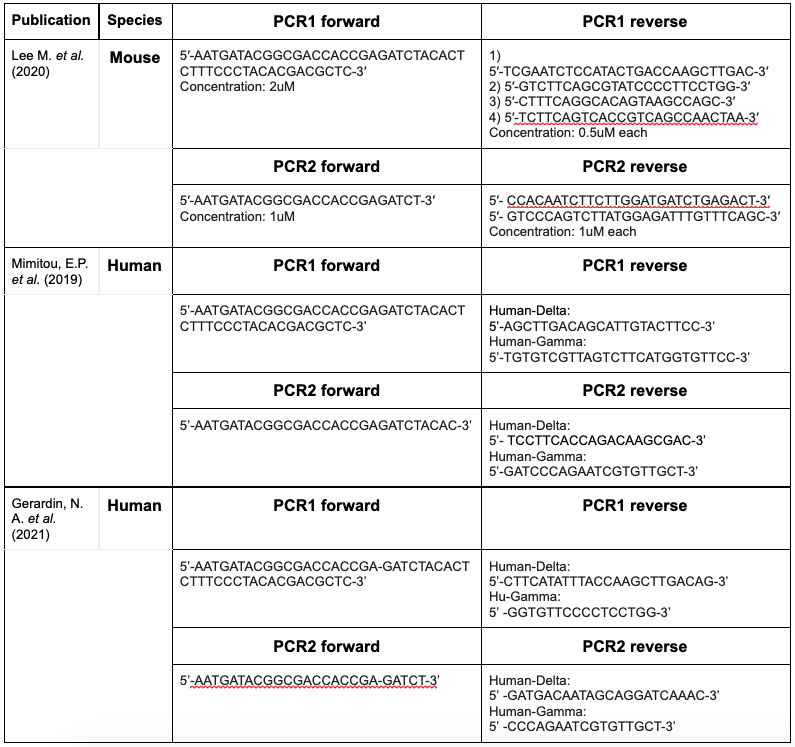 The User Guide describes the assay scheme and configuration (with oligo sequence info and primer concentrations for target enrichment steps), which can be used for designing a custom assay. A guide for PCR conditions is available in section 3.1 of the User Guide linked above. If you are planning to design your own primers, then refer to the design of alpha/beta primers in the Appendix, for steps 4.1 and 4.3.
We recommend following best practices for primer design, including limiting the % of GC content to 40 - 60%, and making sure that the melting temperatures of all the primers in a pool are within a similar range. Please note that the forward primer sequences can be found in the Appendix of the user guides and that the forward primer sequences are distinct between 5' v1/v1.1 and 5' v2.
We recommend a starting final primer concentration of between 0.1uM and 1uM. The forward primer for 5' v2 was shortened to accommodate dual-indexing and may need to be reduced for optimal v2 performance. Once you have a few viable options for your primers, search for each primer in your genome of interest. We recommend selecting a primer that has minimal interaction with other regions of the genome.
QC:
A sharp peak between 500 and 700 bp should be present which corresponds to V(D)J transcripts. The appearance of the enrichment trace is very sample-type specific and some variation is normal. (Please see: Why does my V(D)J enrichment trace look different from the user guide?) Below is the representative trace for human TCR enrichment from PBMCs: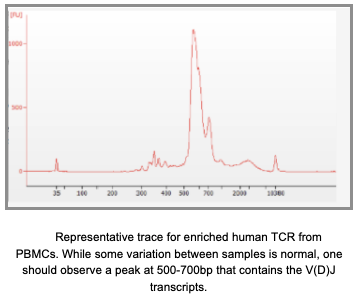 In addition, we recommend making a separate library for T-cell delta/gamma and not spike-in primers for the standard alpha/beta library. The current downstream software solution is not optimized for libraries that contain both alpha/beta and delta/gamma T-cells.
Software solutions:
For our software solution, we recommend using the latest version of Cell Ranger (version 6.1.1 at time of publishing) with the latest version of our V(D)J references: refdata-cellranger-vdj-GRCh38-alts-ensembl-5.0.0 and refdata-cellranger-vdj-GRCm38-alts-ensembl-5.0.0.
Download link: https://support.10xgenomics.com/single-cell-vdj/software/downloads/latest
The cellranger vdj or cellranger multi pipeline can be used to assemble and annotate chains irrespective of the chain type. Since our annotation algorithms are tuned to work with human and mouse TRA and TRB or IgH and IgL chains, metrics for the TRD and TRG chains are not reflected in the web_summary.html or clonotypes.csv files. However, the all_contig_annotations.csv file will contain barcodes for which there was mapping to TRD/TRG chains.
Below are the steps for this solution:
1. Either copy the reference folder to a personal folder, or duplicate the folder and give the copy a new name to reflect that it has been modified. Then locate the regions.fa file in the V(D)J reference provided by 10x.
cd /refdata-cellranger-vdj-GRCm38-alts-ensembl-5.0.0/fasta/regions.fa
2. In this file, change all the "TRG" gene names to "TRA" and all "TRD" gene names to "TRB". One suggested method of making this change is via the sed command line. For more on this command, see: https://linuxize.com/post/how-to-use-sed-to-find-and-replace-string-in-files/
Take caution to not change any other elements in the file.
You can make the required changes using the commands below
$ sed -i 's/TRG/TRA/g' regions.fa
$ sed -i 's/TRD/TRB/g' regions.fa
3. Run your cellranger vdj or cellranger multi pipeline using this modified reference file. When studying the output files from this run, please keep in mind that chains annotated as TRA = TRG and TRB = TRD.
The solution above has been tested on human and mouse V(D)J data. We can not speculate how this method might work in case of custom V(D)J references for other organisms.
Below is a partial screenshot of the web summary from running the proposed software solution on publicly available gamma/delta T-cells data from the Lee M. et al. (2020) publication referenced above. We have also provided the web summary from running the same data with the original reference to allow for comparison. Data from this publication can be accessed here: https://www.ncbi.nlm.nih.gov/bioproject/?term=PRJNA549112
Data analyzed with Cell Ranger (v6.1.1) with modified reference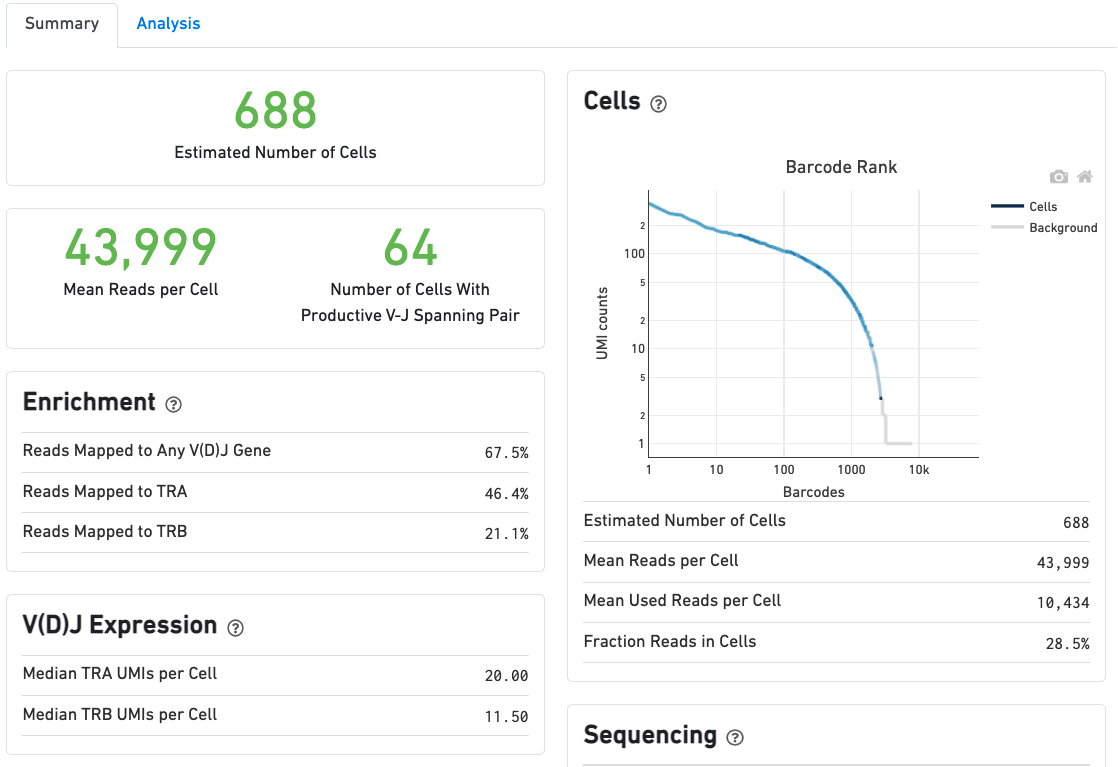 References:
Zhao, Y., Niu, C. & Cui, J. Gamma-delta (γδ) T cells: friend or foe in cancer development?.

J Transl Med

16, 3 (2018). https://doi.org/10.1186/s12967-017-1378-2
Products: Single Cell Immune Profiling