Question: What is the expected size range for amplified cDNA post SPRIselect clean-up?
Answer: After cDNA amplification and SPRI cleanup, the size of the cDNA fragments for Single Cell 3' and 5' libraries will span between 400 to 9000 bases (see figure below). The actual distribution will depend on the sample. The total yield will vary depending on the number of PCR cycles used during cDNA amplification, the number of cells targeted, and the RNA content per cell.
The figure below depicts the cDNA size distribution from a 1:1 mixture of human (293T) and mouse (3T3) cultured cells, depending on the number of cells and PCR cycles: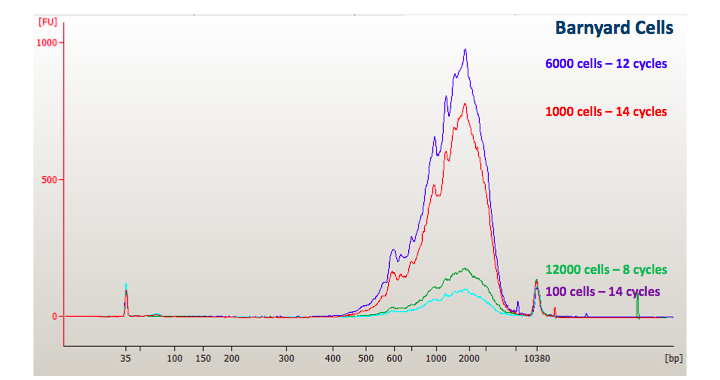 We sometimes observe low levels of primer carryover in amplified cDNA (~80bp). The subsequent SPRI steps during library generation should remove these primers. If there is primer leftover at the end of library construction, an additional 1.0X SPRI bead cleanup could be performed.
Products: Single Cell 3', VDJ