Question: What causes wetting failures?
Answer: A wetting failure can be recognized during GEM recovery by the absence of a uniform GEM emulsion in an outlet well or pipette tip (see picture below). Wetting failures result in improperly formed GEMs, leading to loss of partitioning of single cells and reagents.
Causes:
1) Incorrect priming of reagents in the microfluidic channels due to a chip loading error (i.e. not waiting 30 seconds between adding the Master Mix with cells and Gel Beads, air bubbles in the bottom of the Gel Bead or Master Mix well, or loading less than the indicated volume of partitioning oil).
2) Presence of surfactant or other viscous reagents in the cell media/buffer that is added to the RT Master Mix. That can change the flow characteristics of the sample in the sample lane during partitioning.
3) Running the instrument in an environment that is > 82°F (27.7 °C). Warmer temperatures will also change the way the fluids run through the chip.
4) Sometimes a wetting failure will occur despite proper loading of the chip. This happens occasionally but is a rare occurrence.
Recommendations:
1) If a wetting failure occurs during GEM generation, we recommend re-preparing the sample.
2) As part of our warranty policy, clog and wetting failures that have been properly documented are reimbursed with replacement reagents and chips. Please send (1) the lot numbers of the Gel Beads and chips that were used when the failure occurred, (2) a picture of the failed emulsions (in the pipette tips or the chip) to support@10xgenomics.com, (3) a recent purchase order and a contact phone number.
Best practices to minimize wetting failures:
Add reagents in the stipulated order and wait 30 sec between the addition of Master Mix and the addition of Gel Beads. When loading more than one sample, load all samples first (up to 8) and then load the Gel Beads. We recommend not to extend the wait time between the addition of Master Mix and the addition of Gel beads beyond 2 min.
Avoid introducing air bubbles when pipetting into the chip.
After loading the chip, keep the chip level and avoid carrying the chip long distances (i.e. do not carry to a lab across the hall or up or down flights of stairs).
Run the chip in the Chromium Controller immediately after the chip is loaded.
Storage and handling of chip and instrument should be performed at temperatures < 82°F (27.7 °C).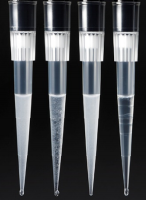 Figure 1. (From left) 1: Properly formed GEMs, 2: an example of a wetting failure in which the GEMs are not homogeneous, 3: properly formed GEMs, 4: another example of a wetting failure with complete separation of partitioning oil and reagents.
Products: Single Cell Gene Expression, Single Cell Immune Profiling, Single Cell ATAC