Question: What are the additional peaks in my post-cDNA amplification QC?
Answer: After cDNA amplification, the post-cDNA amplification reaction is run on the Agilent Bioanalyzer High Sensitivity chip at a 1:5 dilution for qualitative analysis. The traces should resemble the overall shape of the electropherograms shown in the User Guide.
Abundant cell-type-specific transcripts, in which a transcript accounts for a large proportion of total cellular transcripts, may lead to additional peaks on the Bioanalyzer trace. Below are some cell types in which abundant transcripts have been observed.
If the traces contain peaks of short fragment size (<100 bp), this is indicative of carryover gel bead oligos or primer dimers. For more information on how to proceed, please see bottom of this article.
Peripheral Blood Mononuclear Cells (PBMCs)
In PBMC samples, specifically, when the red blood cells (RBCs) have not been lysed, we observe an abundant RBC-specific transcript at ~700 nt.
PBMC sample with RBCs cDNA traces (Bioanalyzer):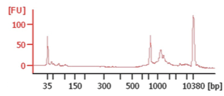 .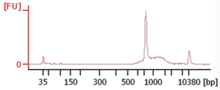 Pancreatic beta cells
Pancreatic beta cells express abundant transcripts that encode for insulin, which can account for ~30% of the total transcripts in each cell.
Pancreatic beta cell cDNA trace (Bioanalyzer):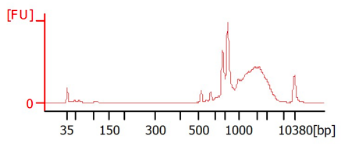 Neuronal samples
In neuronal samples, we have observed a ~400 bp peak in final libraries that may be present to varying degrees. This peak is strongly correlated with the presence of reads mapping to the 5' end of MALAT1 transcripts. Specifically, it is observed in neuronal samples with low cell viability, and its expression may be related to cell stress or cell death. There is no obvious negative effect on overall library data quality.
Neuronal sample cDNA with high MALAT1 expression (Bioanalyzer):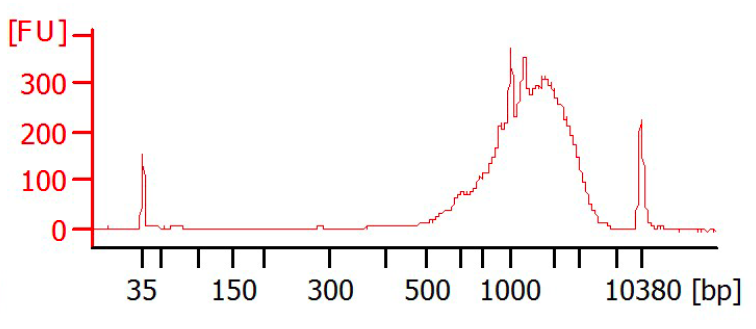 Neuronal sample final library with high MALAT1 expression (Bioanalyzer):
If you observe small peaks (<100 bp) in the post-cDNA amplification trace:
Causes:
Low levels of primer carryover (fragments <100bp; see Figure below) are sometimes observed after SPRIselect cleanup of the cDNA amplification reaction. This is normal and does not affect sequencing or application performance.
In general, we see more primer carryover for samples with a lower RNA content or if the cell load is lower than the targeted recovery (e.g., targeting 6000 cells and running only 10 cDNA amplification cycles, but actually only having 3000-4000 cells).
Recommendations:

The subsequent SPRI steps during library generation should remove these primers. If there is still some primer leftover at the end of library construction, an additional 1.0X SPRI could be performed.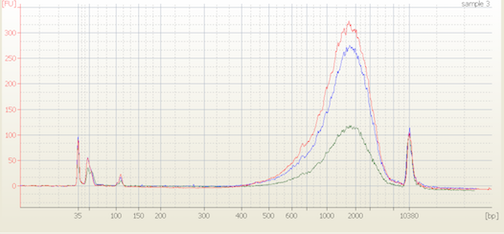 Products: Single Cell Gene Expression, Single Cell Immune Profiling