Question: I have only my Gene Expression library from a multiome sample and would like to run Cell Ranger in the 10x Cloud, but I keep getting an error: "An extremely low rate of correct barcodes was observed." Can you please help?
Answer: To analyze only the Multiome Gene Expression library in Cell Ranger, the chemistry needs to be specified as Multiome, since there is a separate library of barcodes for this product.
After you have uploaded your FASTQ files to the 10x Cloud, you will need to set the "Library or Feature Type" to "Single Cell Multiome 3' Gene Expression", like this:

Then, when you select "Create New Analysis",

select your Gene Expression library and the Analysis settings will include the "Cell Ranger Count" Pipeline:
Expand the options at the bottom under "View advanced settings"

and make sure to select "Multiome 3'" from the dropdown menu: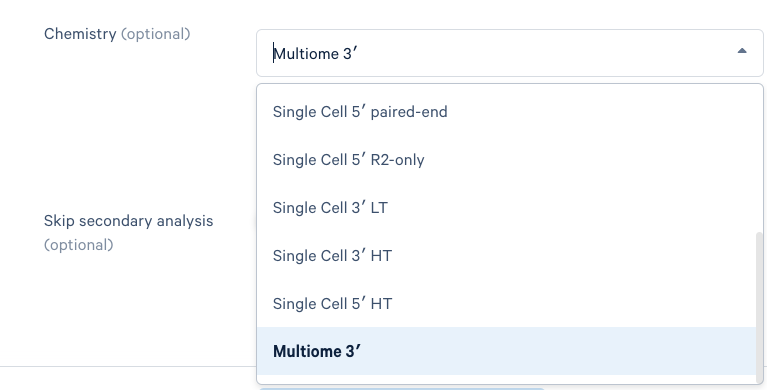 If this chemistry is not set, then there will be an error that looks something like this:
[error] Pipestance failed. Error log at:
/path/SC_RNA_COUNTER_CS/SC_MULTI_CORE/MULTI_CHEMISTRY_DETECTOR/_GEM_WELL_CHEMISTRY_DETECTOR/DETECT_COUNT_CHEMISTRY/fork0/chnk0-uxxxxxxxxxx/_errors

Log message:
An extremely low rate of correct barcodes was observed for all the candidate chemistry choices for the input: Sample <sample> in "/path/". Please check your input data.
- 1.8% for chemistry SC3Pv3
- 1.8% for chemistry SC3Pv3HT
- 0.1% for chemistry SC5P-R2
- 0.1% for chemistry SC3Pv2
- 0.0% for chemistry SC3Pv3LT
Note: This type of analysis is not officially supported. We do not recommend or advise the analysis of single modalities from the multiome assay. The main benefits of the multiome assay i.e. joint cell-calling and feature linkages will not be available when analysis is carried out in this way.
Related KB article:
Can I analyze only the Gene Expression data from my single cell multiome experiment?
Product:
Single Cell Multiome ATAC + Gene Expression
Note: 10x Genomics Cloud Analysis is only available in the United States and Canada.