Question: What can I do if my single cell/nuclei suspension contains a high amount of debris?
Answer: Aggregates, debris and fibers can interfere with accurate cell or nuclei counting and lead to chip failures when generating Gel Beads-in-emulsion (GEMs). Removing debris and aggregates is also important for accurate cell counting with automated counters. Additionally, ambient RNA within the debris may partition into cells, leading to more noise in the data and difficulty for the algorithm to call cells. However, some debris may be inevitable. While there is no strict cut-off for how much debris can be present in samples, the example below may give you a better idea of what to consider a "low debris" sample.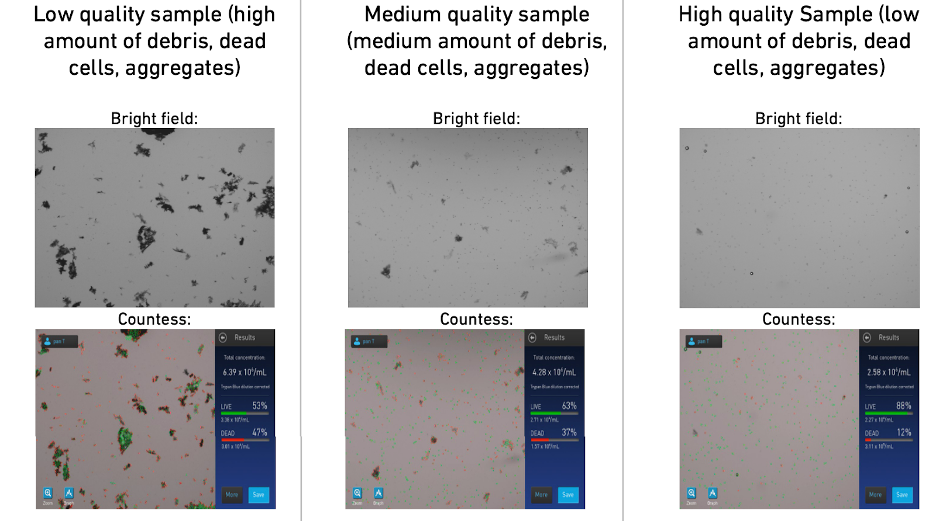 High-quality single cell suspensions should have:
High cell viability (>90% ideally, >70% is acceptable)
Minimal cellular debris
Low levels of cell aggregates (cell clumps)
If your single cell or single nuclei suspension has a high or medium amount of debris, we would recommend including additional debris removal steps to clean up the final suspension. Large biological debris generated during dissociation may lead to microfluidic clogs or wetting failures and are largely mitigated through filtration of the cell suspension. Large fibers are more likely to lead to wetting failures than clogs. Small debris may contain ambient RNA, which can increase background noise in the final data, but it may be better to have some level of small debris present rather than large debris which can cause clogs or wetting failures. The table below lists common debris removal methods that can be used to reduce problematic debris:

For more information about mitigation strategies to reduce problematic debris, please see: Best Practices to Minimize Chromium Next GEM Chip Clogs and Wetting Failures.
Products: Single Cell Gene Expression, Single Cell ATAC, Single Cell Multiome ATAC + GEX, Fixed RNA Profiling