Question: Which thermal cyclers are compatible with Xenium?
Answer: The following thermal cycler has been validated to be compatible with Xenium In Situ Gene Expression by 10x Genomics:
Analytik Jena Biometra TAdvanced 96 SG (846-x-070-241)(where x=2 for 230 V; 4 for 115 V; 5 for 100 V, 50-60 Hz)

Bio-Rad C1000 Touch™ Thermal Cycler with 96-Deep Well Reaction Module (Cat No. 1851197)(discontinued)

VWR xt96 Gradient (76452-153)

MJ Research PTC-200 (05434-05)
Thermal cyclers that are not included in the list above are unsupported as we cannot guarantee assay performance. Unsupported thermal cyclers may be incompatible with the Xenium Slide Cassette, leading to cassette leakage or evaporation, broken slides, and reduced assay sensitivity as compared to validated thermal cyclers. Cassette fit is only one component of validation; phenotypes of cassette evaporation and slide cracking are most often observed during overnight incubation and high-temperature steps.
General best practices:
1) Always place two Xenium slides in cassettes on the Xenium thermocycler adaptor.
The deep-well block allows the Xenium Thermocycler Adaptor to sit directly on top of the block for efficient heat transfer to the Xenium slide. Not using a deep-well block will lessen the heat transfer from the block to the slide and result in a decrease in assay performance.
2) Always use the Xenium Thermocycler Adaptor.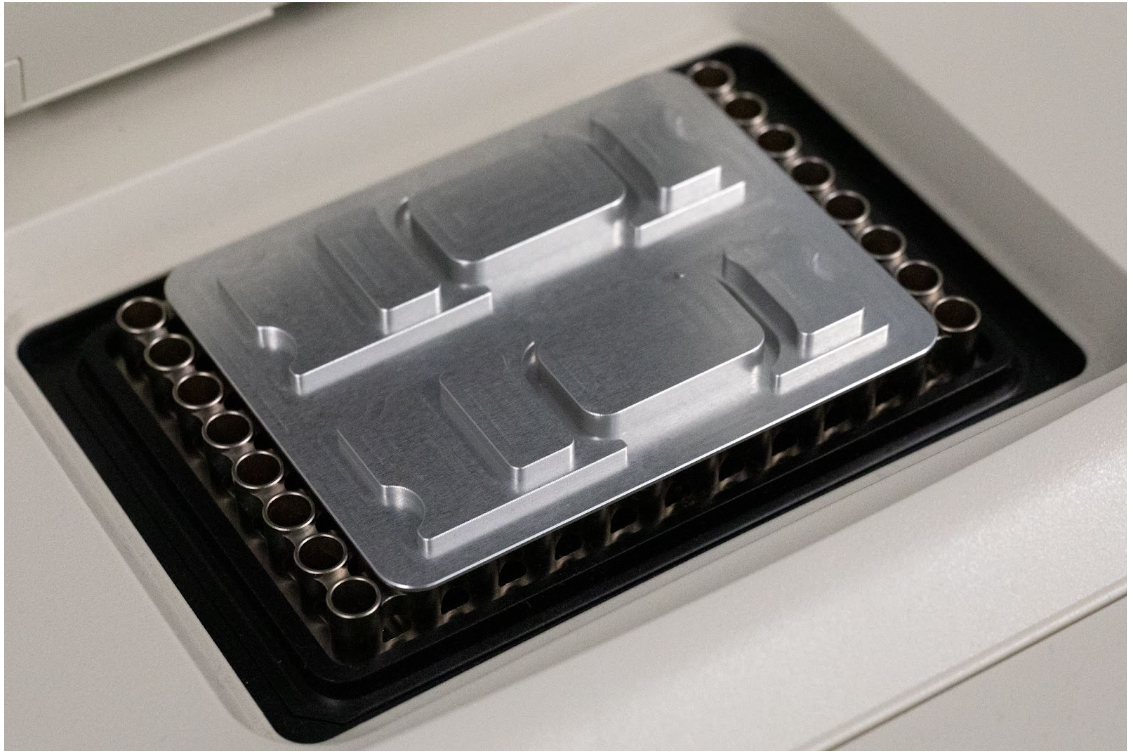 3) Ensure equipment is level.
A small bubble level can ensure the thermocycler adaptor is level for optimal assay performance. Using an instrument that is not level (as shown below) risks improper cassette sealing, evaporation, and/or uneven reagent distribution.
Please refer to thermal cycler manual for leveling instructions.
4) Pay attention to lid temperature.
The lid temperature of some thermal cyclers (Veriti and xt96) do not go lower than 50°C, but some steps of the Xenium workflow calls for lower lid temperatures.
Wash (37

°

C)

Ligation (37

°

C)

Amplification (30

°

C)
For those steps that require lower lid temperatures, we would advise turning lid to lowest temperature possible.
Applied Bio Veriti: 50°C

VWR xt96: 40°C
5) Significant evaporation can compromise assay performance.
After each thermal cycler incubation with liquid, at least 400 µl should be aspirated. If less than 400 µl of liquid is recovered, contact 10x support.
6) 10x recommends adjustable lid models such as the C1000.
This can help seal cassettes. Close lid and tighten until click is heard (if applicable). Do not turn past the click. If using an untested model (not recommended), models with adjustable lids are preferable.
C1000 Best Practices:

Additional notes:
If using thermal cyclers other than BioRad C1000, ramp rates should be adjusted for all the steps as described below:
Analytik Jena Biometra TAdvanced: 2°C/sec heating and cooling


Xenium In Situ for FFPE Tissues – Deparaffinization & Decrosslinking
Xenium In Situ for Fresh Frozen Tissues – Fixation & Permeabilization
Xenium In Situ Gene Expression - Probe Hybridization, Ligation & Amplification
Product: Xenium In Situ Gene Expression