Question: What is the importance of emulsion-safe plastic consumables?
Answer: Some plastics can interact with and destabilize GEMs. It is therefore critical to use validated emulsion-safe plastic consumables when handling GEMs. 10x Genomics has validated Eppendorf twin.tec® PCR plates and Rainin LTS Low retention pipette tips as GEM-compatible plastics. USA Scientific, Eppendorf, and Thermo Fisher PCR 8-tube strips have also been validated. Substituting these materials can adversely affect performance.
We have seen plastics that can negatively impact emulsions stability. Those include brands from Biorad, Denville and Axygen. The image below shows GEMs that were transferred to Denville branded tubes. The image was taken immediately after RT. Axygen tubes saw similar deterioration in emulsion stability after 24 hours, although nothing visually notable after RT or up to 12 hours.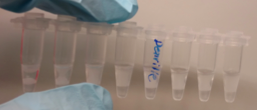 Products: Single Cell Gene Expression, Single Cell Immune Profiling, Single Cell ATAC