Question: What is the importance of emulsion-safe plastic consumables?
Answer: Some plastics can interact with and destabilize GEMs. It is therefore critical to use validated emulsion-safe plastic consumables when handling GEMs. 10x Genomics has validated Eppendorf twin.tec® PCR plates and Rainin LTS Low retention pipette tips as GEM-compatible plastics. USA Scientific, Eppendorf, and Thermo Fisher PCR 8-tube strips have also been validated. Substituting these materials can adversely affect performance.
We have seen plastics that can negatively impact emulsions stability. These include brands from Biorad, Denville, and Axygen. The image below shows GEMs that were transferred to Denville branded tubes. The image was taken immediately after RT. Axygen tubes saw similar deterioration in emulsion stability after 24 hours, although nothing visually notable after RT or up to 12 hours.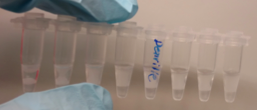 Rainin pipette tips: updates for recent backorders
We are aware that there is currently limited availability of Rainin pipette tips. Rainin pipette tips have been extensively validated by 10x Genomics and are highly recommended for all single-cell assays. If Rainin tips are unavailable, any of the listed alternate pipette tips validated by 10x Genomics may be used.
Supplier
Part Number
Rainin

20 µL, Catalog No. 30389226
200 µL, Catalog No. 30389240
1000 µL, Catalog No. 30389213

Eppendorf*

20 µL, Catalog No. 0030078535
200 µL, Catalog No. 0030078551
1000 µL, Catalog No. 0030078578

Labcon

20 µL, Catalog No. 4-1143-965-008
200 µL, Catalog No. 4-1144-965-008
1200 µL, Catalog No. 4-1145-965-008

VWR**

20 µL, Catalog No. 89495-374
200 µL, Catalog No. 89495-378
1000 µL, Catalog No. 89495-382

Biotix

20 µL, Catalog No. 63300931
200 µL, Catalog No. 63300001
1200 µL, Catalog No. 63300004
*Eppendorf pipette tips require Eppendorf pipettors. All other tips are compatible with Rainin pipettors.
**These VWR tips have been discontinued.
For steps downstream of the GEM-RT incubation step, it may be possible to use pipette tips from other vendors if Rainin tips or the alternate tips are in limited supply. We anticipate that any other pipette tips suitable for molecular biology assays would be compatible with downstream steps in 10x assays.
We have not tested alternative tips for the Visium workflows. However, it is low risk that application performance is impacted since no emulsion handling or microfluidics are involved.
Therefore if you have limited access to Rainin tips, we would recommend saving/conserving your Rainin tips and using them only for steps involving handling GEMs. Tips from other vendors may be used for other steps in the assay.
Products: Single Cell Gene Expression, Single Cell Immune Profiling, Single Cell ATAC, Single Cell Multiome ATAC+GEX, Fixed RNA Profiling Gene Expression